A Just and Holy Cause? The Civil War Letters of Marcus Bethune Ely and Martha Frances Ely
Written by admin on June 21, 2016 – 8:07 am
The next meeting of the Muscogee Genealogical Society will be held on Saturday, July 9th at 4:00 PM at the Columbus Public Library (CB&T Meeting Room, Side B, 1st Floor).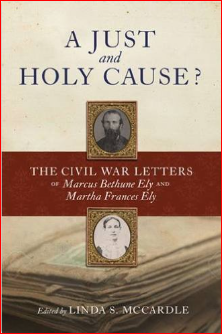 The July program will feature Muscogee Genealogical Society Vice President, Linda McCardle, speaking on her book, A Just and Holy Cause?, which was published by Mercer University Press earlier this year. Linda will share with us her fascinating story of acquiring a pillowcase full of her great-great grandparents' Civil War letters. Her great-great grandparents were Columbus residents Marcus and Martha Dumas Ely. When Marcus joined the Russell Guards, a Columbus-based unit, in May of 1862, and went with them to the Savannah area, he and Martha began their letter exchange. "Through the letters of Marcus and Mattie, the despair, loneliness, and suffering of the soldiers and their families are vividly portrayed," says McCardle. "More importantly, the letters reflect the love and hope that survived the most tragic time in our country's history." Come hear the interesting tale!
Please note that earlier on the same date in the same room, at 2:00p.m., the Public Library's Genealogy Room will host its July "Second Saturday Genealogy Discussion Group." Attendees will share tips and techniques of genealogical research. Why not attend both events and make it a fun-filled Genealogy afternoon!
Light refreshments will be served before the program. Free and open to the public.
Call 706-322-3175 for more information.